Update: It's 2023, and I'm re-building my site. It was heartwarming to view this blog again several years after writing it. The featured image is my to-do list of big goals, and I'm humbled and proud to say that I have accomplished every single one of those goals.
Late in April 2016, I got an email from one of my favorite teachers at Lone Star College CyFair. She was asking if I (and a few other students) could send some photos of our portfolios because she used ours as examples, but she recently had some computer problems.
I wanted to do a little more, plus I'm confident in myself.
So I replied, "I can send you some pics, or if you think it'd add more value for the students I can just give you the physical piece. I work for myself now, and I don't see myself going on interviews again, so I won't use it anymore – I'd be happy to give it to you if somebody else will benefit from it."
#Goals will never be enough.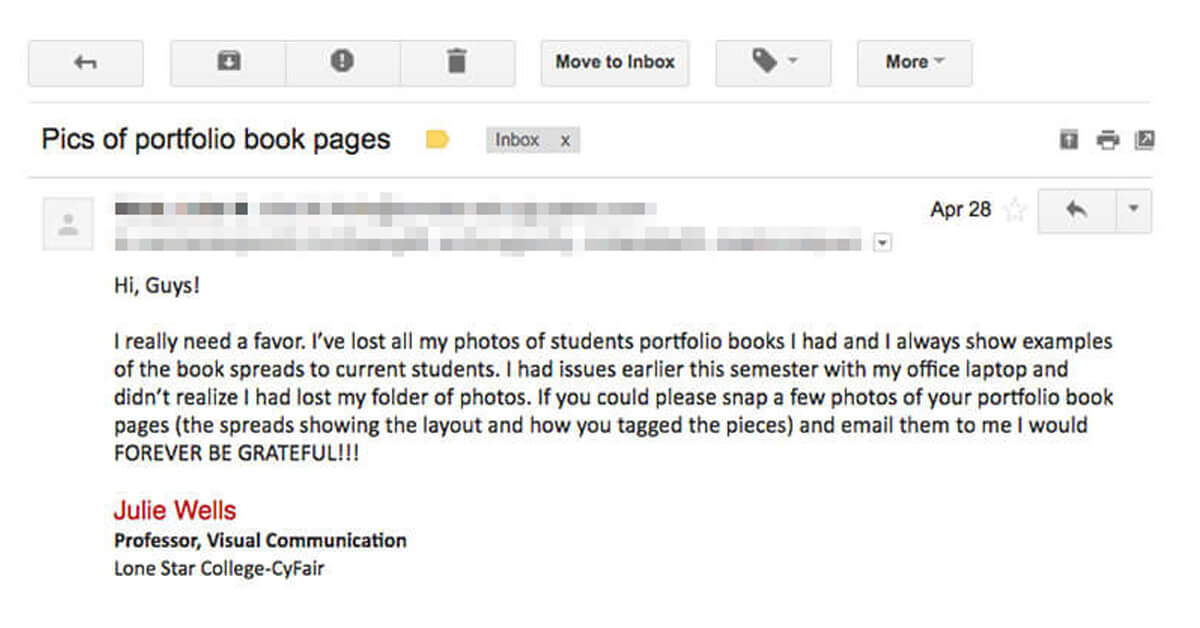 The email.
Once we scheduled a day and time, I brought her my portfolio book, so the students could have something better than just my pictures – they could actually feel it, and flip the pages. A big deal for young designers (and old too I suppose).
Since graduating from Lone Star College in 2013 and moving on to the University of Houston, I'd only seen her once or twice when I spoke at an open house, so we sat and talked a bit.
While we're sitting there, she mentions to me that they're short handed on teachers, and they pretty much always have been.
My eyes got big like an owl.
"Sooooooo, what if I applied!?"
I told her about a trip I took that really inspired me, and one of the goals that came out of that was to teach at the college level and give back, but if possible at the same school where I started to learn my craft. She told me I was definitely qualified, and "I taught you, so I know you're good!" She encouraged me to apply, so I did.
Then I waited.
And waited.
And followed up with a few emails.
And waited.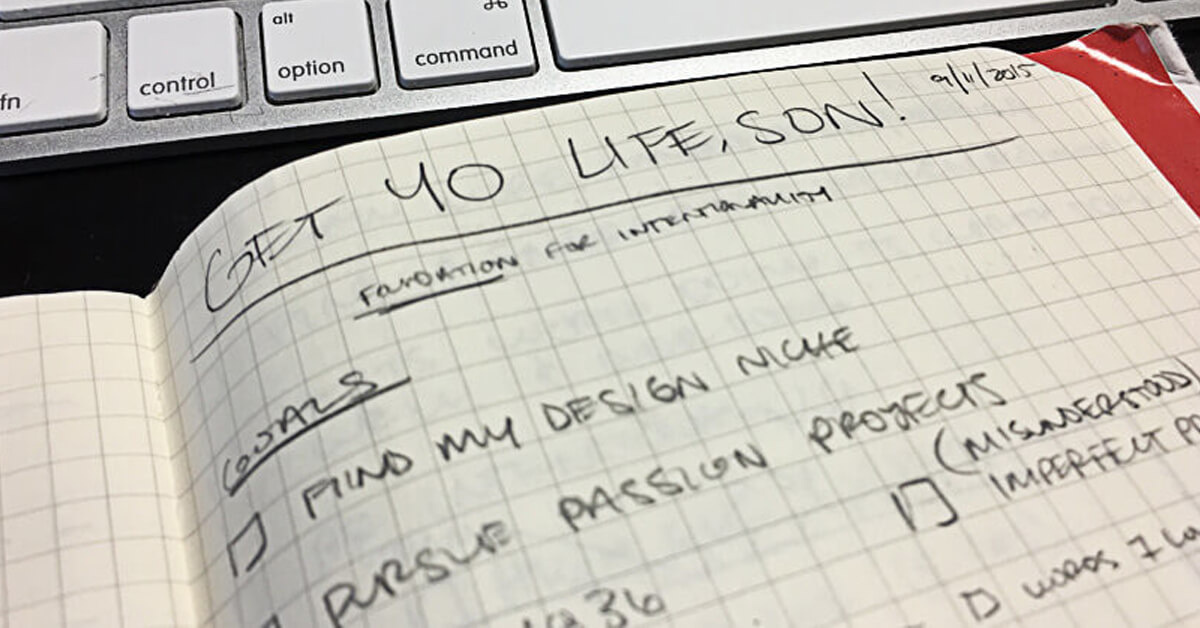 Now, while you're waiting with me, this list of goals is extremely significant to the story for a few reasons. Around this time in 2015, I went to my first design conference ever, and it was an experience that was so overwhelmingly great, I'm still riding on the high from it almost 2 years later. It was called Circles Conference in Grapevine, TX. Thanks to the awesome research of my friend good friend Jerry Lopez and the thoughtful gift of my wife – this was the best Christmas gift ever to date, and I didn't even get to use it for 9 months!
The list. Title inspired by my friend Justina.
Not only did I meet a few cool folks – one guy has actually become a good friend of mine. I was so so inspired at Circles. The speakers there reminded me that I'm the only hurdle standing in my way. I've already overcome so much to get to where I am today, nothing can stop me now.
Instead of participating in the evening's events with my new friends at the conference, I went back to my hotel room, and I sat on my bed with my journal and a terrible microwaved pizza. I made a list of things I planned to do – ways of being more intentional about my life, my craft, and my relationships.
What came out of that little exercise was a handful of lists: a high level vision, 5 and 10 year goals, and daily stuff I'd be working on to get to them. Mind you, it's been almost 2 years. But I digress.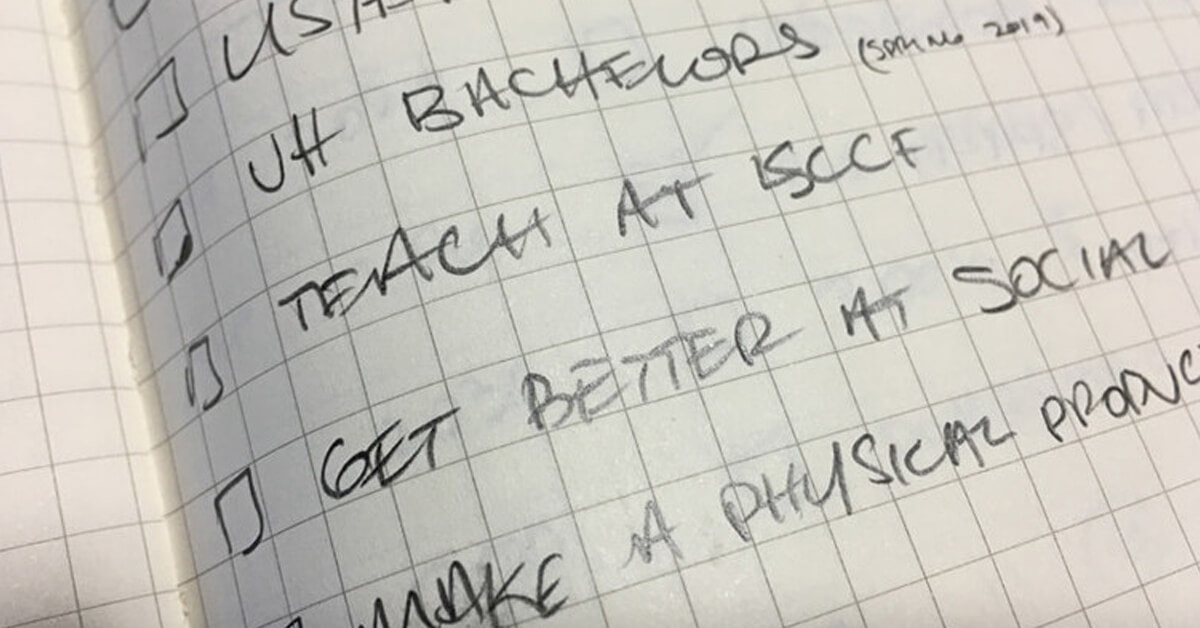 July 2016 rolls around, and I got an email from another one of my professors, now the head faculty for the Visual Communication department. She told me she wanted to bring me in for an interview! Hot dog! I already accomplished one life goal in 2016, and now I have a shot at a second one.
This can't be real. I get all dressed up, go get a fresh haircut, print up some crisp resumes – the usual pre-interview stuff. I show up to find out that this interview is more a formality than anything, and it's more like the beginning of the on-boarding process. As if I already had the job!
Fall 2017 will make my third semester, and it still doesn't seem real to me. I'm teaching in the same classes I learned in, rubbing elbows as a professional with the same people that poured so much into me as a student. One of my friends likes to remind me of Proverbs 18:16, "A man's gift makes room for him and brings him before the great." This is that. 100%. I'm currently teaching ARTC 1317 Design Communication I. It's the foundational principles of design. Now I'm also teaching ARTC 1353 Computer Illustration. This one's an introduction to vector software, AKA Adobe Illustrator, AKA the industry standard software for logo design.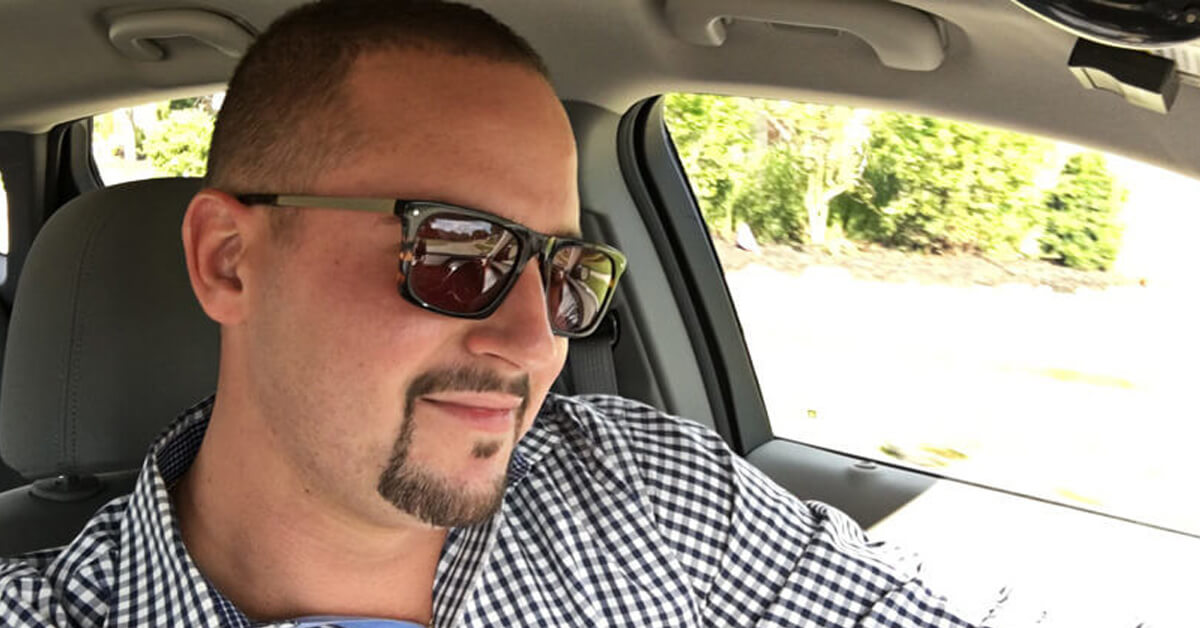 A VERY rare selfie, of me driving to my first meeting as a teacher.
So, I'm heartbroken that I couldn't go to Circles Conference 2016, but it's bittersweet. I missed out because I made some goals, and I've been crushing them. I was having day 2 of my very first class while my friend Tay was away at the conference.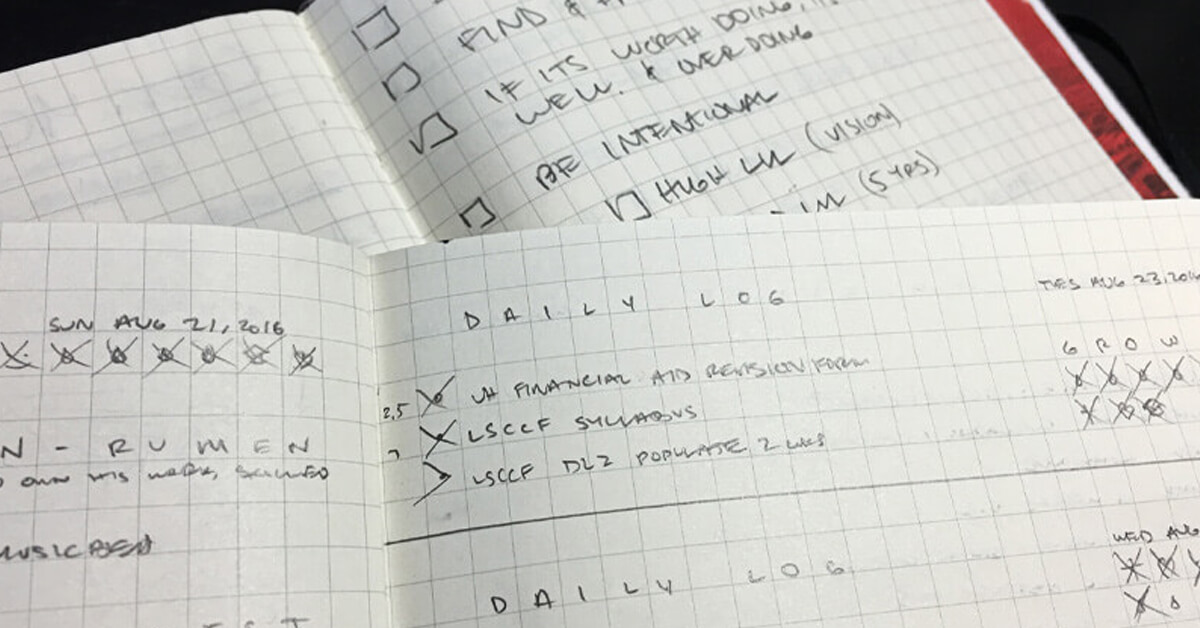 Sidenote: Look how much better my note-taking has gotten in the last year! Hah!